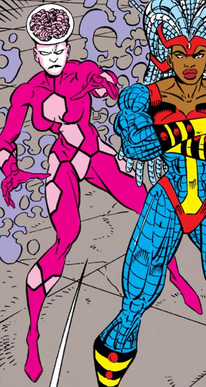 Born in Las Vegas, Nevada, Mindblast was selected for her impressive telekinetic abilities to join the Femme Fatales, a group of super-powered, female criminals. Her mutant powers enabled her to produce tractor beams that could move over 500 tons. However, her power was limited to a single beam.
The most notable use of her powers were when she lifted an airplane that Spider-Man was on, ready to smash it to the ground. Spider-Man dodged her attack, and eventually knocked her out with a piece of the airplane. She went on to serve with the Femme Fatales, also joining Superia's Femizons for a short while. Mindblast is one of the few mutants left after Decimation. She was most recently seen allied with Hammerhead in his super-villain army.
Ad blocker interference detected!
Wikia is a free-to-use site that makes money from advertising. We have a modified experience for viewers using ad blockers

Wikia is not accessible if you've made further modifications. Remove the custom ad blocker rule(s) and the page will load as expected.