✔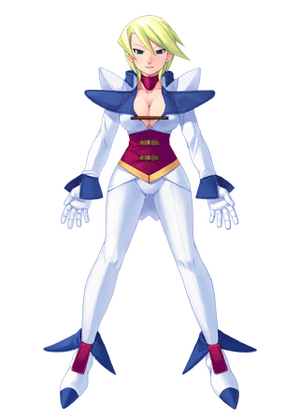 Mildred Avallone
is a very powerful magical being from Arcana Heart. Her ambition is the merging of human and elemental worlds in order to control both and attain god-like powers.
At the beginning of the story, she leads the British Spirit Society which watches over the Earth from the Arcana realm. They monitor the Maidens - girls gifted with the power of gods and goddesses in the form of Arcana.
Fiona is a maiden who got trapped on the other side and works closely beside Mildred with the two sharing an apparently close bond. Unfortunately, we find that Fiona has tirelessly guards Mildred without supporting her own well-being. Additionally, Mildred may only have pretended to give affection to Fiona in order to simply take advantage of her vulnerability in loneliness.
In Arcana Heart 2, her very young sister Angelica attains Mildred's power in the form of the Angel Arcana. This is likely her fate for eternity after her failure in the first Arcana Heart.
She is fought at the end of any route in the first game and utilizes all of the Maiden Arcanas in addition to some unblockable angelic attacks.
Gallery