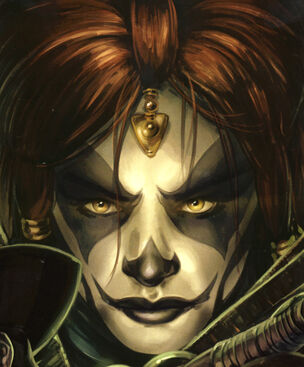 Mighella is a Nightsister witch and a villain in the Star Wars series. She is the enforcer of crime lord and a member of criminal syndicate. She was the personal protector the Black Sun leader Alexi Garyn. Mighella was highly trained bodyguard and a witch of Dathomir. Like all the Nightsisters she is skilled in the use of the dark side of the Force.
Along her journey, she encounters the Sith Lord Darth Maul who was charged by his Master Darth Sidious to strike the criminal syndicate Black Sun and destroy it. Maul cuts his way through all the Sun's lieutentants who were no match for the Sith Lord until only Garyn and Mighella remained.
Mighella attempted to confront Maul herself. She attempts to use an energized sword to stop Darth Maul, then she surprised him with a burst of Force lightning. A moment later Mighella realized too late that her opponent was a Sith Lord with far-superior knowledge of the dark side. Maul slays the Nightsister with a slash of his lethal lightsaber and Mighella fell failing to protect Garyn.