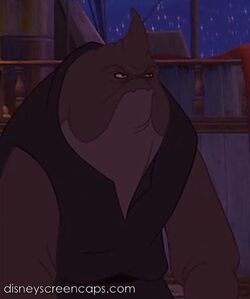 | | | |
| --- | --- | --- |
| " | Thanks for showing us the way, boy. | " |
| | ~ Mertock | |
Mertock is one of the supporting antagonists in the 2002 animated Disney film, Treasure Planet, and one of the alien pirates in John Silver's crew.
He is voiced by the late Robert Pastorelli, who also played Jimmy Detillo.
Description
He seems to be a purple anthropomorphic manatee with clawed fingers, coiled tentacles that serve as his two legs, and a pudgy horn-like limb that sprouts from his head. He had a part in the raid on the Benbow Inn, (yelling out "Where is it?!") scavenging through drawers containing silverware for the map that Billy Bones tried to hide from the pirates. It is unknown what had happened to Mertock in the film, as he is last seen restraining Amelia when he, Silver, and the other pirates ambushed Jim.
Gallery
Quotes
"Where is it?!"
"Thanks for showing us the way, boy."
Disney Villains
Animated Features
Queen Grimhilde | Magic Mirror | Honest John & Gideon | Stromboli | Coachman | Coachman's Minions | Monstro | T-Rex | Chernabog | Ringmaster | Pink Elephants | Ronno | Man | Tetti-Tatti | Lumpjaw | Willie | Mr. Winkie | Brom Bones | Rustlers | Headless Horseman | Lady Tremaine | Ugly Stepsisters (Drizella & Anastasia) | Lucifer | Queen of Hearts | Card Soldiers | The Walrus & the Carpenter | Captain Hook | Mr. Smee | Neverland Pirates | Si & Am | Maleficent | Diablo the Crow | Maleficent's Goons | Cruella De Vil | Jasper & Horace | Madam Mim | Shere Khan | Kaa | King Louie | Bandar Log | Edgar Balthazar | Prince John | Sheriff of Nottingham | Sir Hiss | Captain Crocodile | Rhino Guards | Wolf Arrowmen | Trigger & Nutsy | Heffalumps & Woozles | Madame Medusa | Mr. Snoops | Brutus & Nero | Amos Slade | Chief | Horned King | Arawn | Creeper | Cauldron Born | Horned King's Guards | Gwythaints | Orddu, Orwen & Orgoch | Padraic Ratigan | Fidget | Felicia | Thugs | Bartholomew | Bill Sykes | Roscoe & DeSoto | Ursula | Flotsam & Jetsam | Glut | Percival C. McLeach | Joanna | Gaston Legume | LeFou | Monsieur D'Arque | Gaston's Buddies | Jafar | Iago | Razoul | Gazeem | Oogie Boogie | Lock, Shock & Barrel | Scar | Shenzi, Banzai & Ed | Hyena Clan | John Ratcliffe | Claude Frollo | Brutish & Oafish Guards | Frollo's Soldiers | Hades | Pain & Panic | Cerberus | Hydra | Titans (Lythos, Hydros, Pyros, Stratos & Cyclops) | Nessus | Nemean Lion | Minotaur | Shan Yu | Hayabusa | Elite Hun Soldiers | Cecil Clayton | Sabor | Clayton's Pirates | Jack-in-the-Box | Snooty Flamingos | Firebird | Kron | Bruton | Yzma | Kronk | Lyle Tiberius Rourke | Helga Katrina Sinclair | Rourke's Soldiers | Leviathan | Gantu | John Silver | Scroop | Onus | Hands | Turnbuckle | Longbourne | Fayvoon | Grewnge | Krailoni | Hedley | Torrance | Mertock | Verne | Crex | Nathaniel Flint | Flint's Pirates | Alameda Slim | Rico | The Willies | Mr. Wesley | DOR-15 | Mike Yagoobian | Dr. Calico | Dr. Facilier | Lawrence | Facilier's Shadow | Friends on the Other Side | Mother Gothel | Stabbington Brothers | King Candy | Cy-Bugs | Sour Bill | Wynnchel & Duncan | Prince Hans | Duke of Weselton | Duke of Weselton's Bodyguards | Yokai | Mr. Yama | Dawn Bellwether | Doug Ramses | Woolter & Jesse | Ram Thug | Duke Weaselton | Te Kā | Tamatoa | Kakamora

Live-Action Movies
Long John Silver | Captain Nemo | Giant Squid | Pony Sugrue | Prince John (1952) | Barnaby | Peter Thorndyke | The Bookman | King Leonidas | Colonel Heller | Dr. Terminus | The Gogans | Charles Olympus | Bluto | Vermithrax Pejorative Master Control Program | Sark | Ed Dillinger Sr. | Mr. Dark | Nome King | Princess Mombi | Judge Doom | Toon Patrol (Smarty, Greasy, Psycho, Wheezy & Stupid) | Neville Sinclair | Lothar | Coach Jack Reilly | Warden Nigel Snyder | Josepg Pulitzer | Delancey Brothers | Dr. Charles Hendrickson | Winifred Sanderson | Mary Sanderson | Sarah Sanderson | John Ricketts | The King and the Duke | Pap Finn | William Boone | Buldeo | John Wilkins | Tabaqui | Sergeant Harley | Juice (Blank Check) | Ranch Wilder | Injun Joe | Tony Perkis | Agent Woods | Aunt Sponge & Aunt Spiker | Rhino | Skeleton Pirates | Shark | Cruella De Vil (1996) | Alonzo | Mr. Skinner | Jean-Pierre Le Pelt | Norman Snively | Ricky King | Charlotte (Jungle 2 Jungle) | Lyle Van de Groot | Max & Thor | Beatrice Stanhope | Wilson Croft | Luanne LeSeur | Meredith Blake | Eddie Taffet | Andrei Strasser | Dr. Elliot Coleye | Dr. Claw | Kramer | RoboGadget | Lana Thomas | Principal Elliot T. Jindraike | Toy Santa | Warden Walker | Mr. Sir | Charles "Trout" Walker | Kissin' Kate Barlow | Ramsley | Stacey Hinkhouse | Carla Santini | Lord Kelvin | General Fang | Inspector Fix | Black Scorpions | Viscount Mabrey | Ian Howe | Royal Pain | Stitches | Jadis the White Witch | Maugrim | Ginarrbrik | General Otmin | Vardan | Dr. Kozak | Jack Frost | Janice Avery | Gary Fulcher | Queen Narissa | Mitch Wilkinson | Simon Bar Sinister | El Diablo | Kendall Duncan | Tess Tyler | Speckles | Miraz | Sospespian | Glozelle | Nikabrik | Hag & Werewolf | Lucinda | Oswald Granger | The Red Queen | The Knave of Hearts | Hamish Ascot | The Jabberwock | Jubjub Bird | Nizam | Morgana le Fay | Maxim Horvath | Abigail Williams | Sun Lok | Drake Stone | Ms. Stout | CLU 2 | Rinzler | Sab Than | Matai Shang | Tal Hajus | Jenny | Latham Cole | Butch Cavendish | Jay Fuller | Evanora | Theodora | King Stefan | King Henry | Taylor Dean | The Giantess | The Witch | The Wolf | Lady Tremaine (2015) | The Grand Duke (2015) | David Nix | Shere Khan (2016) | King Louie (2016) | Kaa (2016) | Bandar Log (2016) | Fleshlumpeater | Bloodbottler | Giants | Gaston Legume (2017) | LeFou (2017) | Monsieur D'Arque (2017) | Gaston's Buddies (2017) | The King 2017

Other Animated Movies
Br'er Fox & Br'er Bear | Elmo St. Peters | Giant Magnet | Evil Clown | Merlock | Guy Graham | Phillium Benedict | Fenwick | Kojak | Ivan Krank | Von Talon | Cufflingk & Underlingk | Kazar | The Supervisor | Mr. Whiskers | Were-Rat | Shelley | Colossus | Nassor | Edgar Gore | Toshiaki | Mr. Burgermeister | Ripslinger | Cad Spinner | Bog King | Roland

Pixar
Sid Phillips | Hopper | Molt | Thumper | Stinky Pete | Al McWhiggin | Emperor Zurg | Zurg Empire (Zurg Bots, Warp Darkmatter, Hornets, Brain Pods & Grubs) | Henry J. Waternoose III | Randall Boggs | Jeff Fungus | Syndrome | Mirage | Omnidroids | Underminer | Bomb Voyage | Chick Hicks | Chef Skinner | AUTO | GO-4 | Charles Muntz | Alpha | Beta & Gamma | Lotso | Lotso's Gang (Ken, Big Baby, Stretch, Chunk, Sparks, Twitch & Monkey) | Miles Axlerod | Zundapp | Grem | Acer | Mor'du | Johnny Worthington III | Chet Alexander | Roar Omega Roar | Thunderclap | Pterodactyls | Bubbha | Velociraptors | Jackson Storm | Sterling

Sequels
Abis Mal | Sa'Luk | Forty Thieves | Forte | Jesters | Zira | Nuka | Vitani | Outsiders | Morgana | Undertow | Cloak & Dagger | Bradley Uppercrust III | Tank | The Gammas | Buster | Reggie | Sarousch | Pom-Pom | Jacques von Hämsterviel | Reuben | Leroy | Erik Hellstrom | Lil' Lightning | Lord Qin | Atka | Dixie | Mama Gunda | Uto & Kago | Marina Del Rey

Shorts and Comics
Peg Leg Pete | Kat Nipp | Phantom Blot | Mad Doctor | H. U. Hennessy | Big Bad Wolf | Captain Katt | Mortimer Mouse | Ajax the Gorilla | Beagle Boys | Flintheart Glomgold | Magica De Spell | Grace Goodwin