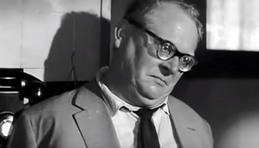 Melchior Kimmel is the main antagonist in the 1963 french movie Le meurtrier (English: Enough Rope). He murdered his wife and initially managed to hide his involvement from the police, but was later arrested.
He is portrayed by german actor Gert Fröbe, who also portrayed Schrott and is best known for his portrayal of Bond villain Auric Goldfinger.
History
When Walter Saccar wants to get rid of his wife, but she is strictly against divorce, he decides to rid himself of her another way. He visits bookseller Melchior Kimmel, whose wife was murdered recently. Though Kimmel was supposedly innocent as he had an alibi, Saccar nontheless thinks he did it and meets him to get suggestions.
When days later Saccar's wife is found dead, Police inspector Corby sees connections between the case and the murder of Helen Kimmel. This leads not only to Saccar becoming a suspect, the case Kimmel is also newly opened, with Melchior being the main suspect.
To get revenge on Saccar for bringing the case back up, Kimmel goes to the police and tells them that Saccar confessed the murder to him. He creates a story with many details, accidentaly giving a detail of his own wife's murder. From this the police deduces that Kimmel murdered his wife, but Kimmel escapes. After stabbing Saccard at a concert he is arrested and incarcarated.