Ad blocker interference detected!
Wikia is a free-to-use site that makes money from advertising. We have a modified experience for viewers using ad blockers

Wikia is not accessible if you've made further modifications. Remove the custom ad blocker rule(s) and the page will load as expected.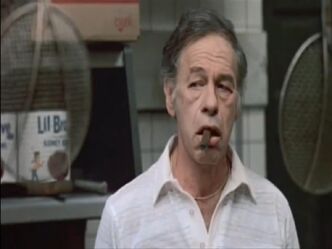 Mel Kostic was the owner of Camp Arawak, where he tried to hide the original murder spree, until he was driven paranoid and beat Ricky Thomas nearly to death before Angela Baker killed him.
Background
Mel owned and operated Camp Manabe in New York state.
Films
Sleepaway Camp
Mel and his head counselor, Ronnie Angelo, supervised the kids' arrival on the first day of camp. When several murders happened at camp, he saw the camp will be closed down. He suspected Ricky and he beat him badly. When the real killer, Angela, appeared, he was shocked and he can't believe the killer was her after he beat Ricky for nothing, She killed him for hurting Ricky.
Sleepaway Camp II
Phoebe recounted the Camp Arawak massacre at Camp Rolling Hills, and mentioned Mel's grisly death.
Behind the Scenes
This was Mike Kellin's last role. He was a veteran of film and TV for decades.