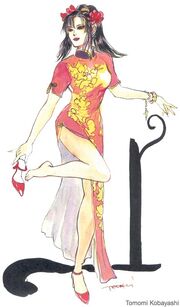 | | | |
| --- | --- | --- |
| " | You're so naive, Riki. How could you ever believe a magic ring would grant your wish? | " |
| | ~ Mei-Ling | |
Mei-Ling is the main antagonist from Riki's storyline in SaGa Frontier.
She helps Riki on his quest to retrieve the magical rings to save his homeland Margmel, apparently out of benevolence. When all rings are gathered, Riki wishes for Margmel to be reborn.
However, all who didn't existed when Margmel was born started to dissapear, and it is then that Mei-Ling reveals the true nature of the rings and her intentions of using them to conquer all regions. as it turned out, she was under the influence of the Master Ring, controlling her from the beginning.
Riki is forced to fight the Ring as it possesse Mei-Ling, and as it is defeated the wish is undone and it's control over Mei-Ling is broken.