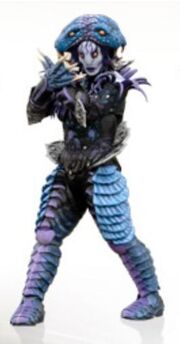 Medusa Legendorga: Armed with a gun and able to use the snakes on her head as weapons, also able to enslave humans like the
Mummy Legendorga
. She was destroyed by Yuri and Megumi Aso using both Ixa Systems on her while she was blinded by Wataru Kurenai free of her master's baptism.
Kamen Rider × Super Sentai: Super Hero Taisen
When Dai-Shocker and Dai-Zangyack reveal their alliance and fight against the combined Super Sentai and Kamen Rider forces, the Medusa Legendorga is among a group led by the Bat Fangire and Crime Minister Yogoshimacritein of the Gaiark, Bat Fangireis seen leading a group of Fangires, Banki, and also the Samurai World Yoma Rairaiken to fight against the Go-Ongers and Kamen Rider Kiva. However, they're all destroyed again at once by a combined finisher attack from the Go-Ongers and Kiva.