Ad blocker interference detected!
Wikia is a free-to-use site that makes money from advertising. We have a modified experience for viewers using ad blockers

Wikia is not accessible if you've made further modifications. Remove the custom ad blocker rule(s) and the page will load as expected.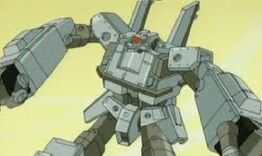 Mecha Megas is an evil robot suit made by the Glorft in the animated series Megas XLR.
They made it by using their technology and Coop's modifications. Gorrath used the battlesuit to attack Earth and recapture Megas. As he caused destruction to get Coop to arrive, Kiva and Jamie mistaked Mecha Megas' pilot for Coop himself. Gorrath began rampaging the city using Mecha-Megas, but was defeated by Coop, who also destroyed Mecha-Megas in the process.
Trivia
Mecha Megas has some differenet design cues, compared to the original Megas, namely a different paintjob and its head resembling a truck of some sort, rather than a Plymouth Baracuda .