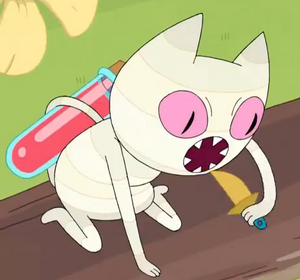 Me-Mow is a villainess in Adventure Time. She's a very tiny cat and is an assassin.
She becomes the main antagonist in the episode "Jake vs. Me-Mow", when the heroes Finn and Jake visited Wild berry Princess, she told them that she have been targeted by a organization of assassins. Me-Mow was sent to kill the princess possibly because of her stealth and size, and she needed to pass a test to become a full assassin or else she had to retake it the next year. When she was hiding in a pie, she is found by Jake and then she uses him as a slave (while hiding in his nose) to kill the princess or else she will inject him with poison. When Jake failed twice to kill her she injects him twice, then she reveals herself to Finn. When Finn and Me-Mow fought she already destroyed the antidote for the poison, Finn knew it was all over so he couldn't keep fighting, saying his last goodbye with Jake until they realized he can stretch fifty times his size plus one so the poison couldn't travel (right when Me-Mow said the poison can kill a dog fifty times his size). She fails, but her anger lashed out and she attacked the princess, she missed then fell down a cliff that was meant to be the princess' death. In the end it is revealed she didn't fell all the way and that she's on top of a bird, it could be possible she'll come back to kill both Finn and Jake so they won't interfere with her missions.
Me-Mow reappeared in "Angel Face".
Skills
It is possible she is a chemical assassin due to her act of poisoning the target. She has great agility and is able to climb high places since she's a cat. Her size is reliable since it will be impossible to hit her in a fight and she can hide in places know one can think about, like the pies. She carries a small dagger down her throat and his skilled at using it, even though the weapon causes small cuts like paper would do.
Personality
She proves to be very hostile when someone is bound to reveal her mission.
Ad blocker interference detected!
Wikia is a free-to-use site that makes money from advertising. We have a modified experience for viewers using ad blockers

Wikia is not accessible if you've made further modifications. Remove the custom ad blocker rule(s) and the page will load as expected.