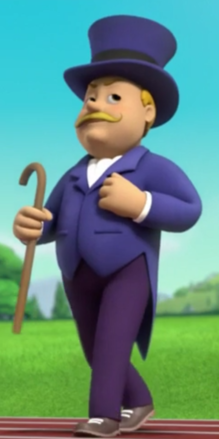 Mayor Humdinger (simply known as Humdinger) is a major antagonist in the children's CGI series PAW Patrol. He is the egotistical mayor of a place called Foggy Bottom and the rival of Adventure Bay's Mayor Goodway. He will do anything to repeat his victory, but he always does it by cheating. He also does this to have something to rub into Mayor Goodway's face. When he doesn't win, he vows revenge and to win next time.
He was voiced by Ron Pardo.
Episodes
Pup, Pup, and Away- In his debut appearance, Mayor Humdinger attempts to beat Mayor Goodway in a race.
Pups Take the Cake- He tries to win the tallest-and-tastiest cake contest, only to lose to Mr. Porter, Alex, and the PAW Patrol's Lookout Cake with Alex's race tracks as the slide and stabilizer. He vows revenge, especially after being advised to put more hot air in his balloon cake next time.
Pups Save a Basketball Game- He has his own basketball team who will always cheat to win. For example, he has them knock out members of the PAW Patrol, such as Zuma and Rocky, leaving Marshall to take over and win. He does not stop his players from cheating.
Pups and the Mischievous Kittens- He has his own feline counterpart of the PAW Patrol, known as the Kitten Catastrophe Crew. He has them mess up Adventure Bay for his own victory. For example, he'll have them spill trash all over, rip flowers off the flower bed, shoot yarn at Chase for spying, and eventually try to flood the town. At this point, trying to dominate and beat Adventure Bay, he loses his footing, but holds on to it, prompting Chase to bark out his zipline and grab onto it with Ryder's encouragement. As punishment, he and the kittens end up cleaning up the mess they made.
Pups Save the Mayor's Race- The day before the mayors' race, Mayor Humdinger has Rocky's feline counterpart drill a hole in Mayor Goodway's boat. On the day itself, he cheats in the following events to win: In the rowboat race, he has Zuma's feline counterpart push his boat quickly. Then in the swimming race, he has Chase's feline counterpart shoot "sardines" that then become sardines to block the other mayors' path, and he swims through, claiming not to have time to play with dolphins. Then in the running race, he has the kittens pour corn oil, only for Chase to shoot his net over them, though they managed to pour a little corn oil; so all of the mayors keep running except Humdinger who then uses the cat carrier and tries taking a shortcut to win, only to fall into a hole and have to hold onto a branch, only to be rescued and then disqualified as punishment for cheating, as he has to sit on the crate and watch the rest of the races in anger.
Pups Save an Outlaw's Loot- Again, Mayor Humdinger tries to cheat to find the loot of the outlaw Wild Wilbur. He takes a picture of an old treasure map that is found there so he can try to find it and make sure no one else does, even after Everest and Chase save him from falling to his death (a third time overall). Unknown to him, Rubble had dug up the treasure (well, one of two treasure chests) and tries to take it for himself, but after he opens it, to his own dismay, it has red long johns instead, and refuses it as he walks away in defeat, unaware that there was a second chest that had actual riches in it. When he comes back to have found that in Adventure Bay, he is reminded by Mayor Goodway of what he always says, "Finders keepers, losers weepers," and thus, he weeps. Then while Chase and Everest are running in their long johns in front of the grumpy mayor, Everest unintentionally bumps into the treasure chest, knocking out a coin, which Mayor Humdinger tries to take, only for Chickaletta to take it and put it back in, making Mayor Humdinger cry like a baby again.