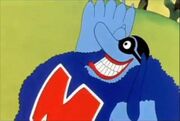 Max is the former secondary antagonist of
The Beatles' Yellow Submarine.
  He is the
Chief Blue Meanie
's second-in-command. He refers to his boss as "Your Blueness," and later "Your Newness."  At first he tried to agree with the chief with saying Yes, but is told to say no as the chief states, "We meanies only take no for an answer."  When the Beatles ask the Meanies to "join them," Max nods his head and says No, but when the Chief fumes for a second, Max actually says Yes.  This delights the Chief, and even Jeremy, as it leads up to the finale number, "It's All Too Much."
Ad blocker interference detected!
Wikia is a free-to-use site that makes money from advertising. We have a modified experience for viewers using ad blockers

Wikia is not accessible if you've made further modifications. Remove the custom ad blocker rule(s) and the page will load as expected.