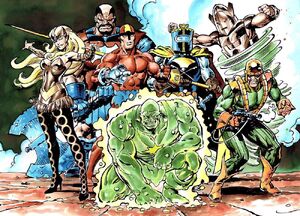 The
Masters of Evil
are a group of villains started by
Baron Zemo
to combat the Avengers. The original members included
Black Knight
,
The Enchantress
,
The Executioner
,
Melter
,
Radioactive Man
, and Zemo himself. They have had many other villainous members and leaders over the years.
In the TV show, The Avengers: Earth's Mightiest Heroes, the Masters of Evil were founded by the Enchantress and Baron Zemo. It's original members were the Executioner, Crimson Dynamo, Wonder Man, and Abomination. Living Laser, Chemistro, and Grey Gargoyle joined later.
The Masters of Evil were also the major villainious group in the video game Marvel Ultimate Alliance. They were formed by Doctor Doom, and had a large amount of various megavillains. Doom's lieutenants were Ultron, Loki, Enchantress, Mandarin, and Baron Mordo.
Members (Current and Former)
Original Members
Later Members
Crimson Cowl's Team
House of M Team
Members in Marvel Ultimate Alliance
Gallery