Master Miyagi
is the leader of the
Ninja Bears
in Naughty Bear. He was hired by Chubby to serve as bodyguards from
Naughty Bear
.
Appearances
Episode 2
Master Miyagi was hired by Mayor Chubby to serve as bodyguards when he told everyone he was going to kill Naughty Bear. Naughty Bear overheard him and decided to get rid of Chubby. Chubby anticipated Naughty Bear and had the Ninja Bears guard him. It is likely Miyagi was going to be the one to execute Naughty Bear.
Most of the bears were located at the Cabin, but none of the ninjas or Chubby were there. After Naughty Bear killed them and destroyed the rosettes, he walked across the bridge to the Rally. Master Miyagi was located near the bridge and saw Naughty and attacked. After Naughty either evaded or killed Miyagi, he went after Chubby. Chubby was armed with a pistol for protection. Master Miyagi and Ninja Chan came to protect Chubby, but they failed and Chubby was killed. Naughty then ran away. The Ninjas probably left since they failed to save Chubby.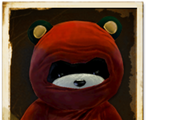 Naughty Bear: Panic in Paradise
It has been confirmed that Master Miyagi and the Ninja Bears are going to appear in Naughty Bear: Panic in Paradise. He now is black and wears a red shinobi shozoko while the other ninjas wear black. To defeat Miyagi you must turn thepirate quests on him, since pirates and ninjas hate each other.