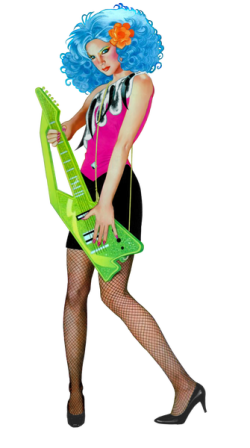 Mary "Stormer" Phillips
is the youngest member of
The Misfits
. She plays the keytar and writes most of their music. Stormer is the primary songwriter of the Misfits, Keytarist for the band, and overall creative force behind the group (though she is almost never given credit for it). While Stormer does seem to enjoy causing mostly harmless mischief, she has never done anything truly malicious to Jem and the Holograms and often expressed concern over some of the Misfits' more ambitious attempts to upstage them. Sweet-natured and compassionate, Stormer is often pushed around by the other Misfits. In the episode,
"The Bands Break Up"
, she and Kimber forge a friendship when both women, feeling unappreciated by their bandmates, strike out on their own, join forces, and record an album together. Though Stormer eventually returns to The Misfits (and Kimber to The Holograms), she does so with new-found self-assurance, and remains friends with Kimber. She also has a sweet tooth.