This article's content is marked as Mature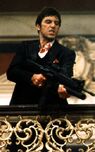 The page Marsellus Wallace contains mature content that may include coarse language, sexual references, and/or graphic violent images which may be disturbing to some. Mature pages are recommended for those who are 18 years of age and older.
If you are 18 years or older or are comfortable with graphic material, you are free to view this page. Otherwise, you should close this page and
view another page
.
Marsellus Wallace is a major antagonist in the 1994 movie Pulp Fiction.
He was portrayed by Ving Rhames, who had also portrayed Nathan "Diamond Dog" Jones in Con Air.
A big time gangster and everyone's boss, Marsellus Wallace pretty much owns the town. He has connections of every kind, and he is the type that one would not want to mess with (as Jules would say, word around the campfire is that Marsellus threw a guy off a four-story balcony through a greenhouse for touching his wife's feet). He seems to have a small band of trusted people, as indicated by the fact that he is only seen speaking with Butch Coolidge, Vincent Vega, Jules Winnfield, his wife Mia Wallace, Paul Calderon and Winston Wolfe. Marsellus' real purpose in the film is to provide a reason for Butch's redemption, which is one of the main themes of the film.
Gallery
Quotes
| | | |
| --- | --- | --- |
| " | I think you're gonna find, when all this shit is over, I think you're gonna find yourself one smiling motherfucker. The thing is, Butch, right now you got ability. But painful as it may be, ability don't last. And your days are just about over. Now that's a hard motherfuckin' fact of life, but that's a fact of life your ass is gonna have to get realistic about. See, this business is filled to the brim with unrealistic motherfuckers. Motherfuckers who thought their ass would age like wine. If you mean it turns to vinegar, it does. If you mean it gets better with age, it don't. Besides, Butch, how many fights do you think you got in you anyhow? Two? Boxers don't have an Old Timers Place. You came close but you never made it. And if you were gonna make it, you would have made it before now. (holds out the envelope of cash to Butch, but just out of his reach) You're mine, dig?" | " |
| | ~ Marsellus Wallace | |
| | | |
| --- | --- | --- |
| " | What now? Let me tell you what now. I'ma call a coupla hard, pipe-hittin' niggers, who'll go to work on the homes here with a pair of pliers and a blow torch. You hear me talkin', hillbilly boy? I ain't through with you by a damn sight. I'm gonna get medieval on your ass." | " |
| | ~ Marsellus Wallace | |
| | | |
| --- | --- | --- |
| " | (when he sees Butch) Motherfucker!" | " |
| | ~ Marsellus Wallace | |