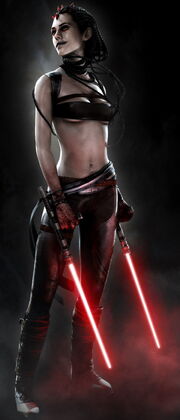 Maris Brood
is a minor villain in the video game
Star Wars: The Force Unleashed
. She is Master Shaak Ti's apprentice when
Starkiller
first arrives on Felucia to kill her. A year later, she is still on Felucia, but has fallen to the Dark Side and is holding Senator Bail Organa hostage. After confronting Starkiller, she sets her "pet"
bull rancor
on him, then duels him in a ferocious lightsaber duel. Before Starkiller is about to kill her, Maris apparently shows remorse and begs Starkiller to spare her life. Starkiller relents and lets Maris go free.
Maris is the boss battle during the mission to Felucia in Chapter Two of The Force Unleashed.