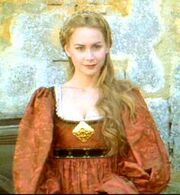 Marguerite
is 1 of two of the main villains of the 1998 movie 
Ever After
, the other being her mother
Baroness Rodmilla
. She was played by actress Megan Dodd.
History
Ten years later, Baroness Rodmilla's older daughter, has grown to be cruel, arrogant, spoiled, and bad-tempered. She schemes to match Marguerite with Henry, even as Henry is enthralled with the mysterious "Nicole."The Baroness then proposes that Marguerite should wear Danielle's mother's wedding dress and the matching glass slippers, which were stored away for Danielle's wedding.
On the day of the ball, the Baroness and Marguarite accuse Danielle of hiding the dress and slippers. After shouting that she would rather die then see Margurite wear her mother's gown, Danielle is locked in the larder. Her childhood friend Gustave asks for help from Leonardo, who frees her by unhinging the door.
He also encourages her to go to the ball and tell Henry the whole truth, saying that the Prince's love for her will be enough to overcome convention. The servants give Danielle her mother's dress and slippers, which they had hidden from Marguerite, and Leonardo gives her a pair of wings.
The Baroness and her daughters are summoned to court, assuming that Henry plans to propose to Marguerite. Instead, Rodmilla and Marguerite are asked if they have ever lied to the Queen about Danielle's engagement. The Baroness makes feeble excuses, while Marguerite tries to save herself by blaming her mother. The ladies turn to Jacqueline for corroboration, but she stands up for herself and refuses to lie for them.
The Queen strips the Baroness and Marguerite of their titles and tells them that they will be shipped to the New World colonies, unless someone pleads for them. Danielle steps forward and is introduced as Henry's wife. Danielle asks that Marguerite and the Baroness be sent to work in the royal laundry room for the rest of their lives as a fitting punishment.
Ad blocker interference detected!
Wikia is a free-to-use site that makes money from advertising. We have a modified experience for viewers using ad blockers

Wikia is not accessible if you've made further modifications. Remove the custom ad blocker rule(s) and the page will load as expected.