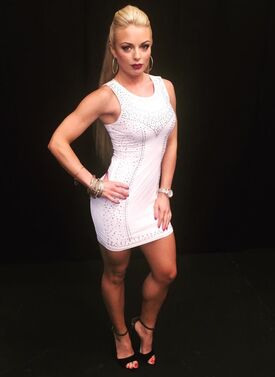 Amanda Saccomanno
is a former contestant from the sixth season of WWE's 
Tough Enough
program and a current WWE Diva competing under the name
Mandy Rose
. She served as the main villainess of
Tough Enough
.
Season Six of Tough Enough featured 13 finalists, seven male and six female, and a male and female winner was crowned at the end of the season. Amanda quickly established herself as the villainess of the program when she engaged in verbal fights with all of her fellow contestants, mainly Sara Lee and Chelsea. She formed an alliance of sorts with Giorgia, and the two of them continued to antagonize Chelsea, but their main target was Sara Lee, whose popularity was rising. In one instant on an edition of Tough Talk, the evil Amanda even went as far as accusing Sara Lee of being a "ring rat":  a woman who flirts with wrestlers. She faced elimination on the July 28th episode, but she was saved by The Miz, and Chelsea ended up eliminated. 
Amanda made it to the final program, which had her and Sara Lee each competing in matches against Alicia Fox. In the finale, she competed under the ring name, Mandy Rose. Mandy joined the cast of Total Divas during its fifth season, which began on January 19, 2016. On January 30, Mandy made her in-ring debut at an NXT live event, doing so as a heel in a six-Diva tag team bout. Mandy teamed with fellow villains Billie Kay and Peyton Royce in a losing effort against Liv Morgan, Aliyah, and Mandy's Tough Enough rival, Sara Lee.
Gallery
Ad blocker interference detected!
Wikia is a free-to-use site that makes money from advertising. We have a modified experience for viewers using ad blockers

Wikia is not accessible if you've made further modifications. Remove the custom ad blocker rule(s) and the page will load as expected.