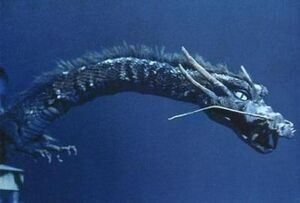 Manda (マンダ Manda?) is a sea dragon kaiju created by Toho that first appeared in the 1963 film Atragon.
History
Showa Series
Atragon
Manda was a dragon that lived in the sea and was the guardian of Mu, an underwater kingdom. When the Gotengo attacked, Manda fought it and wrapped his body around the ship and trying to crush it. But Gotengo charged electricity and unleashed it on Manda, badly shocking him. Manda unwrapped himself and tried to swim away. Gotengo chased after, and fired the Absolute Zero Cannon, which froze Manda.
Destroy All Monsters
Manda was taken to live on Monsterland in Destroy All Monsters. In 1999, the Kilaaks came to Earth and took control of Manda and the other monsters of the island, and made them attack major cities around the world, eventually ending up in Tokyo where he crushed a monorail line. Then, the people of the world freed them from the mind control, and the monsters were sent to fight King Ghidorah. Manda did not fight in the battle, and watched from the sidelines with Varan and Baragon. After King Ghidorah was defeated, Manda and the other kaiju returned to Monsterland.
Millennium Series
Godzilla: Final Wars
In the Millennium series, Manda attacks Normandy, when the Gotengocomes to stop it and attacks Manda in the English Channel . At first, Manda was able to constrict himself around the Gotengo and pull the warship further and further into the depths of the water, severely damaging it. However, the crew spotted an underwater volcano and charged into it, with Manda stuck on their ship. Unable to withstand the heat, Manda was forced to uncoiled himself and swam away. The Gotengo managed to get out of the volcano, but Manda charged at the ship. The Gotengo turned around 180 degrees and fired the maser cannon to freeze the weakened Manda, and then rammed into him with its powerful drill, breaking him into pieces and killing him in the process.
Filmography
Atragon
Destroy All Monsters
Godzilla: Final Wars
Trivia
Manda, along with Gorosaurus and Varan, are some of the few kaiju that appeared in Godzilla films which aren't related to Godzilla, had appeared alongside him, and never fought him at all.

However, there was a deleted scene in Destroy All Monsters that would have had Manda fighting Godzilla.
Manda finally does battle with Godzilla in Godzilla: Rulers of Earth.

In the manga version of Destroy All Monsters, Manda takes part in the final battle with King Ghidorah, wrapping around his wing.
In the Toho film King Kong Escapes, a Giant Sea Serpent swims toward a hovercraft, looking to attack it. However, King Kong throws a rock at it, causing the serpent to retreat back to the depths. It is unknown whether or not this creature has any connection with Manda.