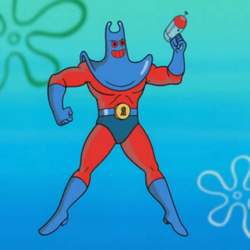 Man Ray is Mermaid Man and Barnacle Boy's second most evil arch nemesis, behind the Dirty Bubble in the SpongeBob Squarepants franchise. He is a spoof of Black Manta. He was first mentioned in Mermaid Man and Barnacle Boy and made his first physical appearance in Mermaid Man and Barnacle Boy III.
He was voiced by John-Rhys Davies (who also voiced Cassim from Disney's Aladdin and the King of Thieves) and Bob Joles (who also voiced X-Brawn from the 2001 cartoon, Transformers: Robots in Disguise).
Appearance
Man Ray is a Manta Ray with a blue helmet which is shaped like a head of a manta ray and has red skin. He also has gloves, boots and a speedo which all have a deep blue color. He also does not have a head under his helmet.
Role
He is one of the main antagonists in SpongeBob's favorite Saturday morning show, The New Adventures of Mermaid Man and Barnacle Boy. Man Ray has a belt that is controlled by a remote. When you press the button, it tickles him. His name is a reference to a manta ray, yet episodes of SpongeBob SquarePants rarely feature a manta ray.
Gallery