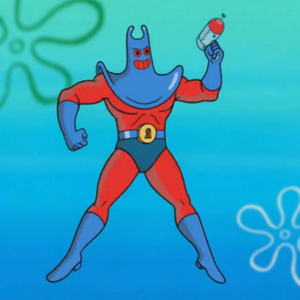 Man Ray
is Mermaid Man and Barnacle Boy's second most evil arch nemesis, behind the
Dirty Bubble
. He is one of the main villains in SpongeBob's favorite Saturday morning show, 
The New Adventures of Mermaid Man and Barnacle Boy
. He is voiced by John-Rhys Davies and Bob Joles (who also voiced X-Brawn from
Transformers: Robots in Disguise (2001 cartoon)
). Man Ray has a belt that is controlled by a remote. When you press the button it tickles him. His name is a reference to manta ray, yet episodes of
SpongeBob SquarePants
rarely feature a manta ray.
Gallery
Ad blocker interference detected!
Wikia is a free-to-use site that makes money from advertising. We have a modified experience for viewers using ad blockers

Wikia is not accessible if you've made further modifications. Remove the custom ad blocker rule(s) and the page will load as expected.