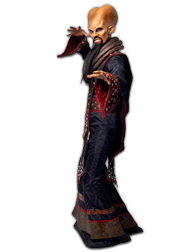 Maldark is a villain in Level Up and is known as the ultimate video game villain. He is a sorcerer whose goal is to seek out new worlds. he has a huge head. he served as a boss in the MMORPG conqueror of all worlds. He was destroyed by Neverfail with the ultimate weapon.
Appearance
He appears in a dark robe with several patterns and has a long black beard forming with from his moustache. He has an oversized head signifying that he has a large brain.
Powers and Abilities
In Level Up he is shown to have the ability to use telekinesis.
Weapon
He has a staff with a yellow green sphere at the top. Which can shoot a giant force field bubble that pushes you across the entire field unless you turn sideways. It can also freeze things, make portals and summon minions.