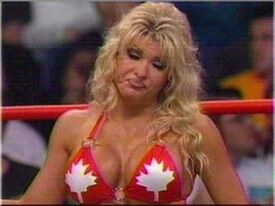 Major Gunns is a former professional wrestler and valet from World Championship Wrestling, where she briefly portrayed a villainess in her career.
Major Gunns started her WCW career as one of the nWo Girls before joining the babyface stable, Filthy Animals, in 2000. After being held captive by rival faction Team Canada, Major Gunns shockingly turned into a villainess and became part of the group on November 13, 2000. On that night, Team Canada leader Lance Storm competed against Filthy Animals leader General Rection for the latter's United States Championship. At the end of the match, the evil Major Gunns threw in the towel in favor of Rection, which awarded the title to Storm. In an interview segment, Major Gunns defended her traitorous actions and claimed that she's "proud to be Canadian." Major Gunns' tenure as the villainous valet to Team Canada ended in February of 2001, when WCW released her.
Ad blocker interference detected!
Wikia is a free-to-use site that makes money from advertising. We have a modified experience for viewers using ad blockers

Wikia is not accessible if you've made further modifications. Remove the custom ad blocker rule(s) and the page will load as expected.