Major Domo is the personal assistant of Mojo. He often aided his master, but always stayed out of any fights. He met the X-Men and numerous other mutants.
He even was the person whom gave Mojo the idea of making his own X-Men, witch resulted in the creation of the X-Babies, mini versions of the X-men.
Major Domo's name is most likely a joke to the word majordomo, which is a person who speaks, makes arrangements, or takes charge for another.
Television History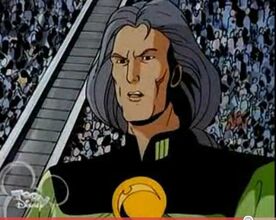 One of Mojo's subordinates. Major Domo seemed to handle most of the work on his employer's behalf with a monotonous apathy.
Gallery