Major Domo is the sycophantic yet contemptuous personal android assistant of Mojo, the ruler of Mojoworld. He often aids his master, and his job his to ensure the smooth running of his master's household, but always stayed out of any fights. An android, Major Domo provides information on and analysis of Mojo's businesses, while at the same time soothing his paranoid ego. He met the X-Men and numerous other mutants.
His abilities make him Mojo's most prized servant. Although treated as nothing more than a glorified toaster, Major Domo remains at Mojo's side, playing a key role in curbing the worst excesses of his master's personality. He even was the person whom gave Mojo the idea of making his own X-Men, witch resulted in the creation of the X-Babies, mini versions of the X-men. Major Domo's name is most likely a joke to the word majordomo, which is a person who speaks, makes arrangements, or takes charge for another. Despite finding Mojo repulsive, Major Domo's position gives him almost unparalleled influence over Mojoworld.
Television History
Edit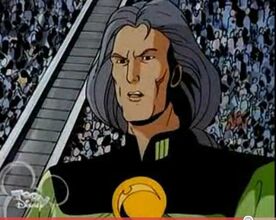 Major Domo appears in X-Men: The Animated Series as one of Mojo's subordinates. Major Domo seemed to handle most of the work on his employer's behalf with a monotonous apathy.