Home
Talk

98
22,402pages on
this wiki
Villain For Headline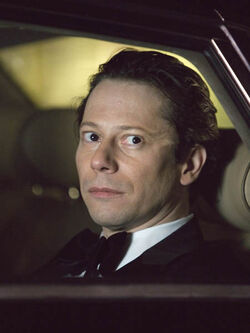 Dominic Greene is the primary antagonist in Quantum of Solace. He is part of the same organization that Le Chiffre and Mr. White work for, and also runs a shell corporation called Greene Planet. Greene is tasked by the organization with securing a piece of land in Latin America that is rich in natural resources. To that end, he plans to restore an exiled dictator, General Medrano, to power, and in return Medrano will hand over this plot of land to the organization. Greene also has a connection to Vesper Lynd, and may have been one of the men who were blackmailing her prior to the events of Casino Royale.
---
To Vote for next month's Villain For Headline, go to Villains:VFH
About This Wiki
The Villains Wiki is dedicated to creating a database of all known villains from all media - ranging from Saturday morning cartoon shows of old to books, video games and comics. Without the villain, there is rarely a plot, and this wiki aims to showcase the characters we all love to hate.
Rules and Policies
Before contributing, please read our rules and abide by them.
NO REAL WORLD EXAMPLES - in order to keep our wiki as neutral as possible we will no longer be allowing the creation of "Real World" articles, unlike fiction the real-world is rarely black and white in terms of morality and one man's "villain" can be another man's "hero" (no matter how wicked they may appear). As such we have decided to stop the practice of adding real-world articles to this wiki and are now catering exclusively to fiction, folklore and theological figures.
NO FAN-FICTION - We do not allow fan-fiction on this wiki. Original content is to be kept on your user page. Only meme-status "fiction" is allowed. If something is not found on KnowYourMeme.com, then it will be deleted on sight.
Plagiarism - Any article added to this wiki must be of your own making. Articles found to be taken from other sites without permission will be deleted without warning.