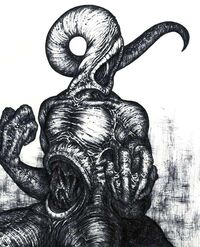 Nyarlathotep, sometimes referred to as the Crawling Chaos, is an evil Outer God mentioned in the works of H.P. Lovecraft where he is seen as a shape-shifting agent of madness and ruin who serves the other Outer Gods. He often visits Earth and enjoys bringing madness and suffering to inferior beings (humans are among them).
Nyarlathotep is described as a master shape-shifter with over a thousand forms, many of which are seen as monstrous and capable of driving mortals insane - a trait common to Lovecraftian monsters, however unlike many of the other Outer Gods, he also frequently takes on a human form as an enigmatic male fashioned on an ancient Egyptian Pharaoh.

To Vote for next month's Villain For Headline, go to Villains Wiki:VFH
Help Rules
We are currently housing

35,643

articles, and

111,609

files.

We need YOU to help us expand and add articles to this wiki!

For starters, please sign up to create a FREE personal account, or log in if you already have one, and review our editing rules.

---

---

If you're new to Wikia, please use the above links to get started.
If you already have editing experience, and you have an article relating to a villain to contribute, use the box below to create it:

If you're looking to help with cleanup, you can start here:

---

---

Check out the

community portal

to see what the community is working on, to give feedback,

or just to say hi.

Before contributing, please read our rules and abide by them.

NO REAL WORLD EXAMPLES - in order to keep our wiki as neutral as possible we will no longer be allowing the creation of "Real World" articles, unlike fiction the real-world is rarely black and white in terms of morality and one man's "villain" can be another man's "hero" (no matter how wicked they may appear). As such we have decided to stop the practice of adding real-world articles to this wiki and are now catering exclusively to fiction, folklore and theological figures.

NO FAN-FICTION - We do not allow fan-fiction on this wiki. Original content is to be kept on your user page. Only notable "fiction" (NOT OF ONES OWN MAKING) is allowed. If something is not found on KnowYourMeme.com or does not have videos on Youtube not made by the original author then it will be deleted on sight. You can create this kind of stuff on the Villains Fanon Wiki.

Plagiarism - Any article added to this wiki must be of your own making. Articles found to be taken from other sites without permission will be deleted without warning.

The Villains Wikia is a mirror version to the Heroes Wiki and is dedicated to creating a database of all known villains from all media - ranging from Saturday morning cartoon shows of old to books, video games and comics. Without the villain, there is rarely a plot, and this wikia aims to showcase the characters we all love to hate. All are welcome to join in and contribute here, so long as edits are constructive, discussions are positive, and both are relevant to the subject of villains.

For more information about how you can get started here, please check the "Helping Out" section below, and be sure to mind our "Rules and Policies." Thanks for stopping by!


Create blog post
Refresh

Harold "Stretch" Joseph, also known as Strizzetch, is a gangster and street hustler that belongs to the same gang as Fra…


Read more >




Devin Weston is an influential billionaire and ruthless business tycoon that runs numerous enterprises in the fictional …

Read more >
See more >