Home
Talk

113
31,060pages on
this wiki
Villain For Headline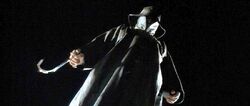 Benjamin Willis, also simply known as "The Fisherman", is the main antagonist of the "I Know What You Did Last Summer" movies. He is based on Lois Duncan's book's character, Bud. Also, he is portrayed by Muse Watson. Ben Willis was a fisherman, and a widower. He had two known children, Will and Susie. Susie was the fiancée of David Egan. One night, they where driving and got into a fatal accident. David survived unharmed, but Susie was killed. Blaming the death solely on David, Ben killed him the next year and threw his body into the ocean. That same night, Ben was run over by teenagers; Helen, Barry, Julie, and Ray, while celebrating Helen winning a beauty pageant. While driving home they accidentally ran over Ben.
---
To Vote for next month's Villain For Headline, go to Villains Wiki:VFH
About This Wiki
The Villains Wiki is dedicated to creating a database of all known villains from all media - ranging from Saturday morning cartoon shows of old to books, video games and comics. Without the villain, there is rarely a plot, and this wiki aims to showcase the characters we all love to hate.
Rules and Policies
Before contributing, please read our rules and abide by them.
NO REAL WORLD EXAMPLES - in order to keep our wiki as neutral as possible we will no longer be allowing the creation of "Real World" articles, unlike fiction the real-world is rarely black and white in terms of morality and one man's "villain" can be another man's "hero" (no matter how wicked they may appear). As such we have decided to stop the practice of adding real-world articles to this wiki and are now catering exclusively to fiction, folklore and theological figures.
NO FAN-FICTION - We do not allow fan-fiction on this wiki. Original content is to be kept on your user page. Only notable "fiction" (NOT OF ONES OWN MAKING) is allowed. If something is not found on KnowYourMeme.com or does not have videos on Youtube not made by the original author then it will be deleted on sight. You can create this kind of stuff on the Villains Fanon Wiki.
Plagiarism - Any article added to this wiki must be of your own making. Articles found to be taken from other sites without permission will be deleted without warning.