This article's content is marked as Mature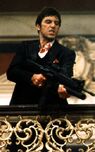 The page Mahmoud contains mature content that may include coarse language, sexual references, and/or graphic violent images which may be disturbing to some. Mature pages are recommended for those who are 18 years of age and older.
If you are 18 years or older or are comfortable with graphic material, you are free to view this page. Otherwise, you should close this page and
view another page
.
Mahmoud is the hidden main antagonist in the Family Guy episode "Turban Cowboy".
When Peter befriends Mahmoud, he agrees to convert to Islam, but not without Quagmire and Joe becoming suspicious of Mahmoud's intentions and set out to break up the friendship. Mahmoud invites Peter to a Muslim get-together but finds himself unwitting involved with terrorists intent on blowing up the Quahog Bridge. Peter realizes that he has been duped and wants to drop out but Joe convinces him to go along since he is already on the inside. As they go over the plan, Peter finds out that he will be driving the van but is caught when he reveals he is wearing a microphone. The guys hear as the bombing plan is rushed into action. Peter is held at gunpoint and forced to drive the explosives-laden van to the bridge. Peter tries to talk Mahmoud out of his plan but fails. Joe arrives in time to stop him and destroys the detonator by knocking it out of Mahmoud's hand. He is arrested shortly afterwards.
Personality
Mahmoud was initially described as a nice, generous, spiritual, intuitive and insightful Muslim man on the outside who befriends Peter in the hospital. But underneath his honest exterior, Mahmoud is an angry, power-hungry, destructive, calculating, sadistic, manipulative and greedy terrorist on the inside. When Peter was sitting at the Drunken Calm With Quagmire, Joe and Brian he tells them he made a new friend named Mahmoud.