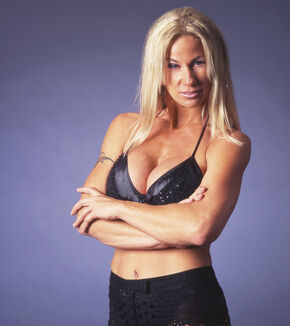 Madusa is a villainous professional wrestler known for her time in the World Championship Wrestling (WCW) company. 
Debrah Miceli also known as Madusa wrestled in the American Wrestling Association before returning to World Championship Wrestling. She joined WCW as a villainess working for the heel organization The Dangerous Alliance as a valet. Madusa feuded with the leader Dangerously after she was fired. In perhaps her most infamous moment in her WCW return, the evil Madusa tossed the WWF Women's Championship inside a trash can; a moment that kicked off the Monday Night Wars.
In 1999, Madusa served as a valet for another heel organization Team Madness. She joined the WCW tournament and was defeated.  She reentered the tournament against her opponent Evan Karagias but was eliminated and defeated again.
In 2015, Madusa was announced as an inductee into the WWE Hall of Fame, where she will go in under the name, Alundra Blayze
Gallery
Ad blocker interference detected!
Wikia is a free-to-use site that makes money from advertising. We have a modified experience for viewers using ad blockers

Wikia is not accessible if you've made further modifications. Remove the custom ad blocker rule(s) and the page will load as expected.