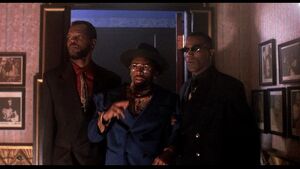 Madlock and Rod were a pair of vicious, sadistic loan sharks and villains in the Spike Lee movie Mo Better Blues.
They were played by Samuel L Jackson and Leonard L. Thomas, respectively.
Roles
When they first encounter Giant, he is already in dead. They kidnap him, and they hurt his fingers, mercilessly. They are also sadistic as well. Showing him no mercy in doing so. A strange plus side, though, is among each other, they are affably evil. They're just cruel to their enemies. The most brutal act done by these two is in the end. When he doesn't give them the money this time, they take him to the back of the theater, a back alley, and start beating him mercilessly. They punch him mercilessly and brutally until he's disfigured. They also beat up Denzel's character as well when he tries to give them the money he had, but it was too late.