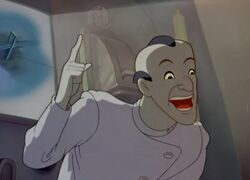 | | | |
| --- | --- | --- |
| " | So you want a story? I'll give you the greatest story of destruction the world has ever known. | " |
| | ~ The Mad Scientist | |
The Mad Scientist is an evil scientist and the main villain in the first 1941 Superman cartoon, Superman aka The Mad Scientist. He spoke in a cackling tone.
Appearances
In the original short, he lives in a big observatory-like building on the outskirts of Metropolis with his pet crow. His goal is to wreak havoc on all of Metropolis one building at a time using his Electrothanasia-Ray laser cannon. He kidnapped Lois Lane to witness his rampage by starting off with a tower bridge, sending dozens of cars and pedestrians into the river below, as told on the radio. The Mad Scientist then targets the entire Daily Planet building, but the arriving Superman saves the building from tilting, uses his strength to destroy the laser cannon, and rescued Lois Lane from the imminent explosion of the Mad Scientist's lair caused by the destruction of his weapon. Before the lair exploded, the Mad Scientist's pet crow escapes while Superman takes the Mad Scientist and flew away from the explosion with him and Lois. In the end of the short, Superman turns Mad Scientist to the authorities, who then sentenced the Mad Scientist to lifetime in prison for his crimes, much to his anger.
The Mad Scientist is seen again in a Superman comic book, the very first 'imaginary story' DC ever published. In this instance, comic book Clark is taking comic book Lois to the theatre, only to realize that a Superman cartoon precedes the main feature, and that comic book Lois will see screen Superman changing to and from Clark Kent. Through tricks and the use of his powers, Clark manages to keep Lois from any scene that gives away the big secret (though only her, not the other members of the audience, for some reason). The story of the cartoon they are watching involves the Mad Scientist escaping from prison, once more threatening Metropolis and challenging Superman. By cartoon's end, screen Superman has once more bested his foe (the closest those cartoons got to villains like Ultra and Luthor) and comic book Clark has once more kept his secret from Lois, albeit at the cost of Clark's standing in her eyes eroding even further. Both Supermen wink at the audience as the story ends.