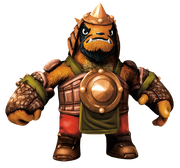 Mab Lobs
is
Evil Mabu
 and one of the trappable villains in
Skylanders: Trap Team
. A Tech element trap is required to trap him.
Description
Mab Lobs appears in the Mirror of Mystery special level, there the Trolls are happy and peaceful and the Mabus are evil invaders, and Eon calling itself Evilon and he is Dark Portal Master and Kaos is nice and Good Portal Master. Mab Lobs and the other Mirror Mabus intended to attack the happy little Troll Village, but the Skylanders and Trolls defended it until the end. Later the Skylanders and Trolls fight against the Mab Lobs and Evil Mabus. Mab Lobs throws the bombs, and he is Evilon's minion/henchmen and evil Mabu Soldier. However the Skylanders defeat him and lock him in a Tech element trap. And then the Skylanders and Trolls continued the battle against the Evilon and his Mabu Soldiers.
Gallery
Ad blocker interference detected!
Wikia is a free-to-use site that makes money from advertising. We have a modified experience for viewers using ad blockers

Wikia is not accessible if you've made further modifications. Remove the custom ad blocker rule(s) and the page will load as expected.