Ma-Ma
Talk

0
26,952pages on
this wiki

This article's content is marked as Mature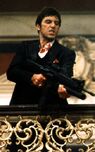 The page Ma-Ma contains mature content that may include coarse language, sexual references, and/or graphic images which may be disturbing to some. Mature pages are recommended for those who are 20 years of age and older.
If you're 20 years or older or are comfortable with graphic material, you are free to view this page. Otherwise, close this page and
view another page
.
Evil-doer

Full Name

Madeline Madrigal

Alias

Ma-Ma

Origin

Dredd

Occupation

Prostitue (formerly), drug lord, criminal, leader of the Ma-Ma Clan

Powers / Skills

Guns (including massive gatling guns), cunning, ruthlessness, intimidation, manipulation.

Hobby

Taking the drug Slo-Mo, torturing her victims, murdering and skinning people alive.

Goals

Keep her slo-mo business going, take over Mega City One, kill Judge Dredd and Judge Anderson

Type of Villain

Crime Lord / Drug Dealer / Psychopath / Sadist / Complete Monster
| | | |
| --- | --- | --- |
| " | This is Ma-Ma. Somewhere in this block are two judges. I want em' dead. | " |
| | ~ Ma-Ma to Peach Tree's inhabitants | |
Ma-Ma (real name: Madeline Madrigal) is a psychopathic woman who is a prostitute turned drug lord with a trademark for excessive violence and the main antagonist of the 2012 sci-fi/action movie Dredd. She is the powerful leader of a criminal gang organization known as the Ma-Ma Clan and the person responsible for the distribution of the new addictive drug called Slo-Mo.
She is portrayed by Lena Headey.
Biography
Starting her life out as a block whore, Madeline Madrigal killed her pimp in a vendetta attack after he scarred her and took over his interests. She then adopted the nickname "Ma-Ma" and founded her own gang, the Ma-Ma Clan. Following this she took over the top floor of the Peachtree Block and then slowly worked her way down, level by level, in the process wiping out the other three gangs The Peyote Kings, Red Dragons and The Judged giving her full control of the block.
Ma-Ma then used Peachtree as the manufacture centre for a new addictive drug called Slo-Mo, which slows the user's perception of time to 1% of the normal rate. After making an example killing of three users she attracted the attention of Judge Dredd and the on assesment rookie Cassandra Anderson. In order to prevent her lackey Kay from talking in interrogation at the Grand Hall of Justice, she shuts down the whole block locking the two judges inside.
Ma-Ma sent her whole gang after Dredd and Anderson though the two survived and worked their way up the block. Ma-Ma was cornered by Judge Dredd and shot in the torso. He then dosed her with Slo-Mo and judged her guilty of murder and the manufacture and distribution of narcotics sentencing her to death. He did so by tossing her off the 200th floor of Peachtree to her demise.
Evil Deeds
Due to her sociopathic nature and large capacity for ruthlessness, Ma-Ma is responsible for many acts of excessive violence as well as several flat-out arocities throughout the film:
When it is discovered that 3 rogue dealers are stealing her product, she casually orders her henchmen to skin them alive before throwing them from a high balcony into the Peach Trees atrium for dozens of Men, women and children who are there at the time to witness. Adding to this, before they are thrown over the balcony they are forcefully dosed with slo-mo in order to make the moments before their deaths to last longer, thus increasing their agony.
When the story of Ma-Ma's origins are revealed in the film, it is told that she bit her pimp's genitals off as payback for slicing her face open. 
It is also revealed in this scene that she personally gouched out a man's eyes with her thumbs as her henchmen pinned him down.
Finally, Ma-Ma and her gang annihilated all the other gangs in Peach Trees, leaving none of their members alive. This could be considered genocide, albeit a non-racially motivated genocide.
In a reckless attempt to kill Judge Dredd and Rookie Judge Anderson, Ma-Ma and her clan mercilessly slaughter dozens of innocent civillians (including children) as well as destroying their homes using three mounted Vulcan Cannon gatling guns to carry this out.
Upon being confronted by Dredd in her private quarters Peach Tree's 200th floor, she activates a wrist device synced to her pulse, which if triggered by a loss of hearbeat would send a detonation signal to cache of explosives large enough to bring down the entire building. She does this in order to try and prevent Dredd from killing her, however if the bombs had detonated, the resulting collapse caused by the explosion could have jeprodised the lives of peach Tree's entire residental population which totalled 75,000 citizens.  Again, this can be considered attempted genocide. 
Other appearances
Ma-Ma's origin story is revealed in the Dredd 2012 prequel comic: Top of the world: Ma-Ma, which goes into detail about how she turned from a fearful prostitute into a brutal druglord, it also explains the origins of the drug slo-mo.
Gallery