Ma-Ma
Talk

0
22,341pages on
this wiki

This article's content is marked as Mature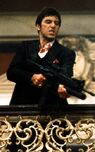 The page Ma-Ma contains mature content that may include coarse language and/or graphic images which may be disturbing to some. Mature pages are recommended for those who are 18 years of age and older.
If you're 18 years or older or are comfortable with graphic material free to view this page, otherwise, close this page and
view another page
.
Evil-doer

Full Name

Madeline Madrigal

Alias

Ma-Ma

Origin

Dredd

Occupation

Prostitue (formerly), drug lord, criminal, leader of the Ma-Ma Clan

Powers / Skills

Murdering, Knife wielding, guns, machine guns cunning, manipulation, torturing.

Hobby

Being addicted to the drug Slo-Mo, torturing her victims, murdering and skinning people alive.

Goals

To take over Mega City One.

Type of Villain

Crime Lord
Ma-Ma (real name: Madeline Madrigal) is a psychopathic woman who is a prostitute turned drug lord with a trademark for excessive violence and the main antagonist of the 2012 sci-fi/action movie Dredd. She is the powerful leader of a criminal gang organization known as the Ma-Ma Clan and the person responsible for the distribution of the new addictive drug called Slo-Mo.
She is portrayed by Lena Headey.
Biography
Starting her life out as a block whore, Madeline Madrigal killed her pimp in a vendetta attack and took over his interests adopting the nickname "Ma-Ma" and founded her own gang, the Ma-Ma Clan. She then proceeded to take over the top floor of the Peachtree Block. She slowly worked her way down, level by level, and wiped out the other three gangs The Peyote Kings, Red Dragons and The Judged giving her full control of the block.
Ma-Ma then used Peachtree as the manufacture centre for a new addictive drug called Slo-Mo, which slows the user's perception of time to 1% of the normal rate. After making an example killing of three users she attracted the attention of Judge Dredd and the on assesment rookie Cassandra Anderson. In order to prevent her lackey Kay from talking in interrogation at the Grand Hall of Justice, she shuts down the whole block locking the two judges inside.
Ma-Ma sent her whole gang after Dredd and Anderson though the two survived and worked their way up the block. Ma-Ma was cornered by Judge Dredd and shot in the torso. He then ingested her with Slo-Mo and judged her guilty of murder and the manufacture and distribution of narcotics sentencing her to death. He did so by tossing her off the 200th floor of Peachtree to her demise.
Gallery