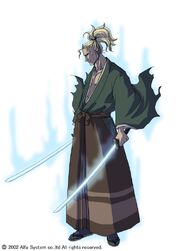 Lynn Baumann is the fourth boss of Castle of Shikigami.
Baumann was a famous actor, known for his samurai roles. He died before he could finish his last movie, but he was resurrected by a demon parasite, which promised him a youthful body for a final act. Baumann is the grandfather of Roger Sasuke, one of the main characters in the series.
Baumann acts as the final obstacle before reaching the Castle of Shikigami, fusing with a giant samurai armor for battle. All of his attacks involve swinging his huge swords, which scatter shots all over.
Ad blocker interference detected!
Wikia is a free-to-use site that makes money from advertising. We have a modified experience for viewers using ad blockers

Wikia is not accessible if you've made further modifications. Remove the custom ad blocker rule(s) and the page will load as expected.