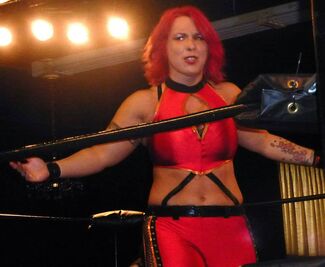 LuFisto 
is a professional wrestler currently competing on the independent circuit, doing so for promotions such as SHIMMER Women Athletes, Women Superstars Uncensored, NCW Femmes Fatales, and Queens of Combat. She is a two-time NCW Femmes Fatales Champion and a former WSU Champion.
LuFisto mainly competes as a babyface/heroic character, but she has been a villainess in a few occasions. One instant came in WSU back in 2012, when LuFisto interfered in a Casket Match for the WSU Championship between champion Jessicka Havok and challenger Mercedes Martinez. LuFisto attacked Mercedes and helped Havok place her inside the casket, costing Mercedes the title. In a video promoting her Street Fight against Mercedes, LuFisto claimed that Mercedes is an evil person; referencing instances that occurred in NCW Femmes Fatales and SHIMMER. Mercedes was portrayed as a villainous rival to LuFisto at NCW Femmes Fatales, but because Mercedes was a top babyface in WSU, LuFisto was the villainess in their bout at An Ultraviolent Affair, which she won. After the match ended, LuFisto was attacked by Mercedes, resulting in a double turn.
LuFisto briefly turned heel at SHIMMER weekend in April 2014, after she was denied another chance at the SHIMMER Championship against then-champion Cheerleader Melissa, despite LuFisto pinning Melissa in a tag team match at SHIMMER 63. After Allison Danger told LuFisto that she will get a shot after Melissa loses the title, LuFisto was approached by Saraya Knight, who manipulated her into taking matters in her own hands during the championship main event between Melissa and Yumi Okha. During that match, LuFisto attempted to help Yumi with the use of a steel chair, but Yumi refused the assistance, and the interference ended up costing her.
At SHIMMER 65, the evil LuFisto competed against Yumi in a grudge match. LuFisto portrayed a frustrated and vicious heel in her match, which actually saw her enter without her longtime "manager," Pegaboo. Despite her villainous persona, LuFisto was defeated by Yumi. After the match, Saraya Knight came out with Pegaboo in her hands...and tore her apart. Finally realizing that Saraya was toying with her, LuFisto went after Saraya, putting an end to LuFisto's teased villainous turn.
After working as a babyface at SHINE Wrestling, LuFisto turned heel at SHINE 37 on September 2, beginning with demanding to replace Allysin Kay at Ivelisse's opponent for the SHINE Championship. LuFisto claimed that SHINE doesn't want her to replace Ivelisse as the face of the promotion, and after her challenge was accepted, LuFisto attacked Amanda Rodriguez. In the main event, LuFisto was defeated by Ivelisse, and after the match, her villainous turn was cemented when she aligned with Amber Gallows, Kennadi Brink, and Andréa in attacking Ivelisse and the rest of the babyfaces. The four of them banded together to form a faction known as C4.
Gallery