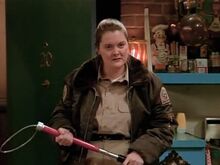 Louisa was a minor villain on Friends. She appeared only in the episode The One Where the Monkey Gets Away, attempting in vain to recapture the titular simian.
She was portrayed by Megan Cavanagh.
She is an animal cop who tries to find Marcel. She's a tomboy for sure (and it might be implied that she is or was a lesbian, and there are some implied remarks about her for being a tomboy; Rachel was unwelcoming to her on several occasions). She is portrayed as evil and mean.
Ad blocker interference detected!
Wikia is a free-to-use site that makes money from advertising. We have a modified experience for viewers using ad blockers

Wikia is not accessible if you've made further modifications. Remove the custom ad blocker rule(s) and the page will load as expected.