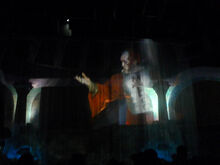 Lord Darkenon is the antagonist of the Universal Orlando attraction Poseidon's Fury. He is a fiery warrior who fought Poseidon years ago prior to the attraction's progress. As the tour guide Taylor leads the audience to the temple to return the trident, Darkenon emerges and attacks him, until the former places the trident on a nearby statue. Poseidon reclaims it and duels Darkenon while setting off flames. After a grueling sword clashing, Poseidon slashes Darkenon destroying him for good. The god tells the audience, "It is done!"
Ad blocker interference detected!
Wikia is a free-to-use site that makes money from advertising. We have a modified experience for viewers using ad blockers

Wikia is not accessible if you've made further modifications. Remove the custom ad blocker rule(s) and the page will load as expected.