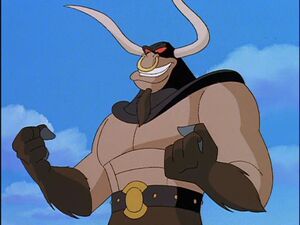 Longhorn
formerly
Jubal "Bull" Nixon
, was an employee of Johnny Cat, a cat litter compliant, until he turned to a life of crime. Because he was searched for by law enforcements so frequently, he had plastic surgery to turn himself into a humanoid texas longhorn steer. He loves country music and despite being a lousy songwriter and singer, he is determined to get a recording contract at Nashville. He also owns a massive truck, named Bessie Mae which is outfitted with all kinds of devices.
History
Longhorn is a bull man who wants to become a country singer and songwriter and will do anything to get a recording contract.
Ad blocker interference detected!
Wikia is a free-to-use site that makes money from advertising. We have a modified experience for viewers using ad blockers

Wikia is not accessible if you've made further modifications. Remove the custom ad blocker rule(s) and the page will load as expected.