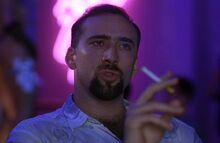 Little Junior Brown (Nicolas Cage) is the brutal psychopath and asthmatic bodybuilder mobster of the movie Kiss of death (1995), directed by Barbet Schroeder.
Jimmy Kilmartin (David Caruso) is an ex-thief and ex-con, trying to rebuild his life onestiy with his wife (Helen Hunt) and daughter. One night, involved by his cousin Ronnie (Michael Rapaport) in the transport of stolen cars on Little Junior's behalf, he gets arrested and imprisoned.
In jail, he's resolute not to rat on his accomplices and Little Junior, but, when his wife dies in a car accident and he discovers the night earlier she slept at his cousin's house, he decides to rat about some heists committed years earlier, so that Little Junior can believe Ronnie was the rat.
Ronnie is in fact brutally killed by Little Junior.
After being paroled, Jimmy is forced by ambitious District Attorney Frank Zioli (Stanley Tucci) to join Little Junior's gang so that he can finally frame him.