Liles is one of the villains of the 1994 Action Adventure Movie, On Deadly Ground.
She was played by Shari Shattuck.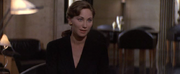 The vile secretary to the main villain, Michael Jennings. She talks to Jennings and MacGruder after a commercial and informs them that Hugh, hero and rig foreman, is a problem to them. Not only does she update and inform Jennings of their business but she goes with him to their new refinery, Aegis 1. She also says to MacGruder that it's neccesary for the FBI to be there at Aegis 1, believing that the FBI will foolishly coverup their corruption and help in getting rid of Forrest Taft, the hero and specialist.
When Taft kills Jenning's henchmen, MacGruder and herself, abandon Jennings and try to escape. Liles tries to run from the fight between MacGruder and Taft and crashes her truck on a gasoline tank. The explosion of the gasoline tank kills her.