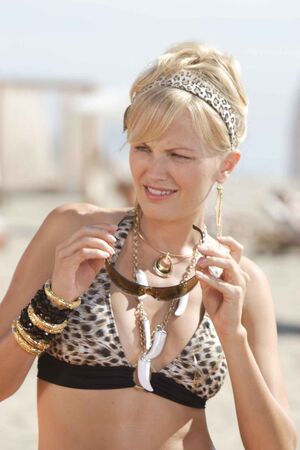 Lila Cantrow
is the wife of Eddie Cantrow and the main antagonist in the 2007 film
The Heartbreak Kid
.
She is portrayed by Malin Akerman.
Biography
Lila and Eddie meet when Eddie fights off a mugger attempting to steal her purse, and the two begin to date.
They get married within a very short time due to Eddie's father and best friend pressuring him, and almost immediately after, it becomes clear that they are mismatched.
Lila reveals that she is unemployed, a former cocaine user, and very far in debt. In addition, she physically, emotionally, and sexually abuses Eddie.
During their honeymoon, Eddie meets his true soulmate, a kindhearted southern girl named Miranda, and begins to see her behind Lila's back. When his cover is blown, both girls leave him, and Lila steals his passport, forcing him to re-enter America illegally.