Lifter and the other members of Mutant Force have been employed by Magneto, Mandrill, Mad-Dog and Professor Power. Ned Lathrop was mentioned depowered after M-Day in Wizard Magazine, however this issue was disputable, and this is unsure as of now.
Television History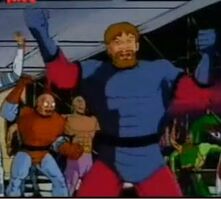 Lifter makes an appearance in the X-Men animated series.
Ad blocker interference detected!
Wikia is a free-to-use site that makes money from advertising. We have a modified experience for viewers using ad blockers

Wikia is not accessible if you've made further modifications. Remove the custom ad blocker rule(s) and the page will load as expected.