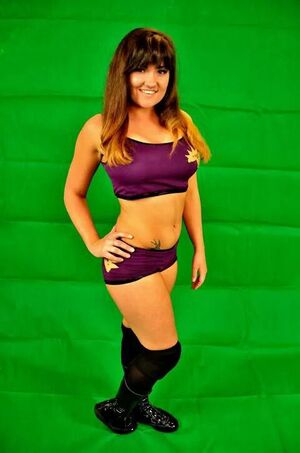 Liberty
is a professional wrestler competing for the Bellatrix Female Warriors promotion. She has held the British Ladies Championship, the RQW European Championship, and the Bellatrix World Championship.
Liberty began her career with Bellatrix, then known as the World Association of Women's Wrestling, as a villainous competitor at their first show, The Return, on November 19, 2011. She was Britani Knight's final pre-WWE opponent, and on that evening, Liberty defeated Britani to capture the British Ladies Championship, with the win coming due to interference from the evil Allison Danger. Liberty had successful title defenses against Amy Lee and Saraya Knight (Britani's mother) at Bellatrix 1 and 2 respectively, but she would lose the title to Rhia O'Reilly at Bellatrix 3.
At Bellatrix 4, Liberty went from villainess to heroine when she volunteered to align with Rhia O'Reilly and compete in a main event Survivor Series-style match against a team led by the villainous Queen Maya. Liberty defeated Queen Maya in singles action at the event, but she would be on the losing end of the main event tag team match, where she was the last one eliminated for her team. Since then, however, Liberty has become the top babyface in the Bellatrix promotion, capturing the RQW European Championship and the Bellatrix World Championship at Bellatrix 5 and 8, respectively.
On October 2, 2015, Liberty debuted for Shine Wrestling at their SHINE 30 IPPV, doing so as a villainous character in a Four Way Freestyle Match against Kellyanne, Jayme Jameson, and Shazza McKenzie, who won the match.
Gallery