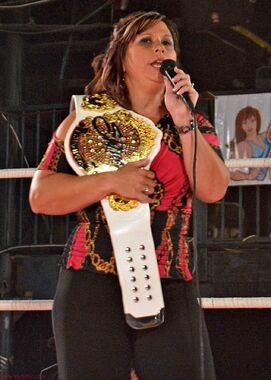 Lexie Fyfe is a professional wrestler best known for competing as a villainess in the SHIMMER promotion. She currently serves as the VP of Shine Wrestling.
Lexie joined SHIMMER at their first show in 2005, where she defeated Christie Ricci. After Malia Hosaka was defeated by Loreiei Lee at their third show, Lexie joined Malia in attacking Lorelei before they were run out of the ring by Cindy Rogers. From that point on, Lexie and Malia formed a tag team known as "The Experience," and went on to defeat Cindy and Lorelei at Volume 4. The team would pick up consecutive wins at several shows until their streak ended at the hands of Cheerleader Melissa and MsChif. Lexie continued to compete in singles competition as well, with her last one-on-one victory coming against Daffney at Volume 14.
Since July 20, 2012, Lexie has served as the VP of Shine Wrestling, SHIMMER's sister promotion. Despite her babyface role at the promotion, Lexie returned to SHIMMER at Volume 50 as part of the heel team of a 5-on-5 elimination match. In the main event match, the evil Lexie teamed with the Canadian NINJAs, Mercedes Martinez, and then-SHIMMER Champion Saraya Knight, and they were defeated by Cheerleader Melissa, Allison Danger, Leva Bates, MsChif, and LuFisto. Lexie turned heel once again at Volume 65 in April 2014 when she competed as The Spider Lady and was defeated by Thunderkitty.
Personality
Much like her Experience partner, Malia Hosaka, Lexie was portrayed as a trash-talking villainess and a bully during her time in SHIMMER.
Gallery