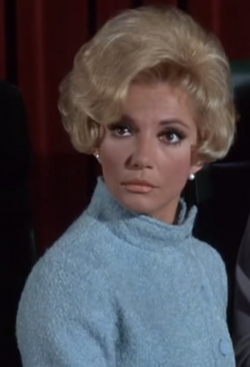 Leslie Smythe-Beddoes is a villainess from Hogan's Heroes, appearing in Season Four's "Who Stole My Copy of Mein Kampf?" She is a British civilian who became part of the German propaganda ministry, operating the German radio programs. Hogan is ordered to "silence" Leslie and (thinking that Leslie is a man) he leaves dressed as a German officer and carries an explosive electric razor, which is gift-wrapped. However, when he discovers that Leslie is a woman, he doesn't give it to her. Leslie arrived at Stalag 13 and heard Hogan talking about the "new Germany" with Carter (a ploy to get to Leslie without killing her), and as a result, she invites him to the next radio program. Once there, Hogan mocks Hitler, destroying Leslie's credibility in the process. At episode's end, Leslie is ordered to be turned over to the Gestapo.
Leslie was played by Ruta Lee, who later lent her voice to Revolta in Scooby Doo and the Ghoul School. Ruta appeared in three episodes of Hogan's Heroes, with her only villainous appearance being in Season Four.
Ad blocker interference detected!
Wikia is a free-to-use site that makes money from advertising. We have a modified experience for viewers using ad blockers

Wikia is not accessible if you've made further modifications. Remove the custom ad blocker rule(s) and the page will load as expected.