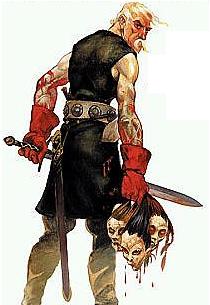 Leo Bonhart is one of the main villains in the Witcher series. He's a human bounty hunter, assassin and a former soldier.
Involvement
Bonhart was hired by Stefan Skellen to kill Ciri and by baron Casadei to capture her alive. He killed a merc band Rats and cut off their hands. Instead of fulfilling any of the 2 contracts he captured Ciri as his slave. He forced her to kill in the arena at Claremont.
Ciri escaped him eventually. Bonhart killed Neratin Ceka for helping her in her escape. Bonhart returned to Vilgefortz and joined him during the showdown at Castle Stygga. During the battle, Bonhart killed Geralt's companion Cahir, but was then killed by Ciri.