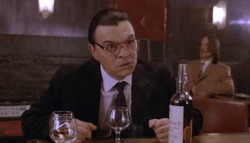 Lennie Taylor is the main antagonist of the 2000 British film Gangster No.1. He is played by Jamie Foreman, known for numerous villainous roles such as Bill Sikes in the 2005 film adaption of Oliver Twist and Derek Branning in the soap opera EastEnders and also the son of former real life gangster Freddie Foreman who was an associate of the Kray twins.
History
Lennie is the rival of London gangster Freddie Mays and has his club torched. The pair have a meeting to apparently settle their differences, however Lennie plots to kill Freddie. Freddie's associate the Gangster discovers Lennie's plot, however doesn't inform Freddie and watches from the distance when Lennie and his goons gun down and attack Freddie and slit his girlfriend Karen's throat.
Later on that evening the Gangster breaks into Lennie's home and shoots him in the leg, and then tortures him to death with numerous tools. Freddie is accused of being involved in the death of Lennie and is sentenced to 30-years in prison.
Ad blocker interference detected!
Wikia is a free-to-use site that makes money from advertising. We have a modified experience for viewers using ad blockers

Wikia is not accessible if you've made further modifications. Remove the custom ad blocker rule(s) and the page will load as expected.