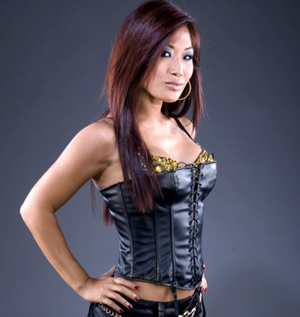 Lena Yada
is a former WWE Diva who acted as a minor villainess on the ECW brand.
After participating in the Diva Search in 2007, Lena joined SmackDown and later ECW as a backstage interviewer. When she was in the ring, however, Lena unleashed her villainous side by entering herself in a dance contest that originally featured Kelly Kelly and Layla, and even went as far as naming herself the winner. It was after losing a bikini contest to Kelly Kelly that Lena officially became a villainess, when she and Layla both attacked Kelly out of bitterness over losing to her. Later on, the evil Lena aligned herself with fellow villainess Layla during her in-ring feud with Kelly, and also briefly aligned with Victoria as well. In her only in-ring appearance on Raw, Lena was part of the victorious heel side of a multi-Diva tag team match. Lena's role as a villainess ended when she was released by WWE in November 2008.
Gallery
Ad blocker interference detected!
Wikia is a free-to-use site that makes money from advertising. We have a modified experience for viewers using ad blockers

Wikia is not accessible if you've made further modifications. Remove the custom ad blocker rule(s) and the page will load as expected.