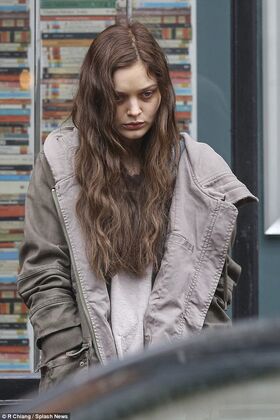 Leila Williams is one of the three main antagonists in Fifty Shades Darker. She is the ex-lover of Christian Grey.
She was portrayed by Bella Heathcote, and based off of Victoria Sutherland
History
She began a bondage/S&M relationship with Christian after the death of her lover. After their relationship ended due to Leila wanting more emotional and romantic intimacy from Christian and Christian being reluctant to do so at the time, she left him for her future husband with whom she settled down.
However, the untimely death of her husband and her continual unreciprocated love for Christian eventually caused her to become emotionally and mentally unstable to the point of seeking Christian's love through methods of stalking, breaking-and-entering and other acts of self-destruction.
She became jealous of Christian's new lover Ana and openly expressed her hatred and jealousy of Ana by storming in Georgia where Christian resided at the time and slit her wrists in front of his neighbors. Lelia would later stalk Ana at the office and threatened her with a gun pointing at her before Christian saved Ana. Leila was arrested and been put away at the mental hospital by Christian and Jason Taylor right after saving Ana. She was never seen or heard from ever again.
Gallery