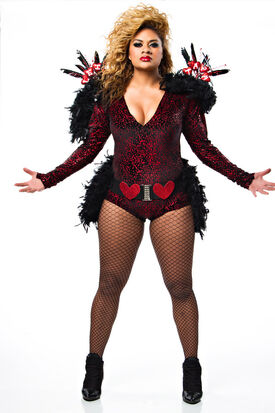 Lei'D Tapa
is a villainous professional wrestler competing in Global Force Wrestling. She is best known for competing in Ohio Valley Wrestling, where she held the OVW Women's Championship three times, and is also a former TNA Knockout.
After competing in OVW, Lei'D Tapa appeared as one of the contestants on TNA's Gut Check edition of Impact Wrestling in February 2013. She was defeated by Ivelisse Velez, but despite this, she won the judges' vote and became part of the TNA roster. Lei'D appeared at a pair of One Night Only PPVs later in the year, defeating Ivelisse at the first Knockouts Knockdown event, and defeating Hannah Blossom at the first World Cup of Wrestling PPV.
Lei'D made her villainous main roster debut in October, attacking Velvet Sky and ODB in back-to-back weeks on Impact Wrestling. At Bound For Glory, Lei'D helped the villainous Gail Kim defeat ODB and Brooke to capture the TNA Knockouts Championship, beginning an alliance between the two. From that point on, Lei'D would serve as Gail's bodyguard (similar to AJ Lee's alliance to Tamina Snuka in WWE), and would assist her in winning matches and attacking her opponents, even after Gail lost the Knockouts Championship to Madison Rayne on January 16, 2014. On the March 13 episode of Impact Wrestling, Lei'D inadvertently caused a miscue that led to Gail losing to the debuting Brittany, and after the match ended, Gail slapped Lei'D and ended their alliance. On the following week, Lei'D lost to Gail and was subsequently released from TNA.
Lei'D returned to TNA on July 27, 2015 as one of the villainous "invaders" from Global Force Wrestling. She competed to a double countout against Awesome Kong, and the two brawled after the match ended. After Karen Jarrett turned heel and revealed her part in the attacks on TNA General Manager Bully Ray and Drew Galloway, Lei'D was shown participating with the GFW roster in the attacks towards TNA wrestlers. On September 9, Lei'D got involved in a Knockouts Championship match between Brooke and former ally Gail Kim, when she attacked Brooke with the title. Lei'D received a title opportunity two weeks later in a four way match, losing to Gail. Defending champion Brooke and Awesome Kong were involved in the match. Lei'D's time in TNA ended when GFW lost a Winner Take All Lethal Lockdown Match on September 30.
Lei'D Tapa is portrayed as a physically dominant heel who demolishes her opponents and any other Knockouts, even going as far as competing against men in OVW. She has drawn comparisons to WWE's Tamina Snuka.
Gallery