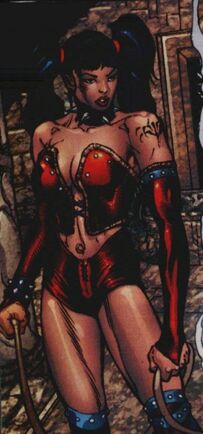 Leash is a member of the Savage Land Mutates. She and the rest of her team were genetically enhanced by Magneto, during his stint as the lord of the Savage Land. He did this in order to give them an edge over the Fall People, and keep them under control.
Powers
Leash can use a psychic leash to bind the psyches and souls of her victims to herself, placing them within her control. In certain circumstances, she pulls the astral form of her target free and places a psychic collar around their neck.
Weaknesses
If she is knocked unconscious, her thralls are freed from her control.
Ad blocker interference detected!
Wikia is a free-to-use site that makes money from advertising. We have a modified experience for viewers using ad blockers

Wikia is not accessible if you've made further modifications. Remove the custom ad blocker rule(s) and the page will load as expected.