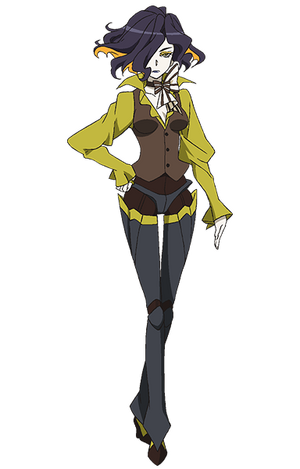 Leiur Darāhim, Leah Darāhim (in Japanese: レイア・ダラーヒム) is one of the villains in Senki Zesshou Symphogear GX.
She is one of the Auto-Scorers (living dolls) that are assigned various tasks including, foremost, the protection of Carol. Her formal classification is: XMH_006
She is a master at throwing coins, and relies on her wit to bolster both offense and defense. She has a younger sister with a well-endowed body.
Appearance
Leah Darahim is a woman. She wears a dress that is colored yellow. She wears a long socks that are black.
History
She made a first appearance as a loyal minion of Carol Malus Deinheim.
Trivia
Leah (レイア)-it might derive from a Chaldean name meaning "mistress" or "ruler" in Akkadian. In the Old Testament, Leah is the first wife of Jacob and the mother of seven of his children. Although this name was used by Jews in the Middle Ages, it was not typical as an English Christian name until after the Protestant Reformation, being common among the Puritans.
Darahim (ダラーヒム)-Durham Capital Corporation is a boutique investment banking firm that offers financial advisory services. The firm provides private placements of senior and subordinated debt financing for US based and international public and private companies across all industry sectors. Durham Capital Corporation was founded in 1986 and is based in New York, New York.
She is the counterpart of Miranda Frost from 007 series.
She represents earth.
She is the evil version of Arcee from Transformers.
External links
Ad blocker interference detected!
Wikia is a free-to-use site that makes money from advertising. We have a modified experience for viewers using ad blockers

Wikia is not accessible if you've made further modifications. Remove the custom ad blocker rule(s) and the page will load as expected.